Chris Riddell is the illustrator of The Edge Chronicles books. His initial doodle of the Edgeworld formed the primary inspiration for the rest of the series. He was born in 1962 in South Africa. Other than illustrating the Edge Chronicles, Riddell also writes his own books and is a political cartoonist for the British newspaper; the Observer. He became the the Waterstone's Children's Laureate in 2015. Many of his books have won awards including the Goth Girl series (winner of the Costa book award) and Something else (winner of the UNESCO Award). He has won many Nestlé Book Prizes and has had two Kate Greenaway Awards. He now lives in Brighton with his family very close to Paul Stewart.
Illustrations
Chris Riddel regularly postes on his Tumblr, Facebook and Instagram and draws live on Periscope. There are also some videos on his Youtube channel.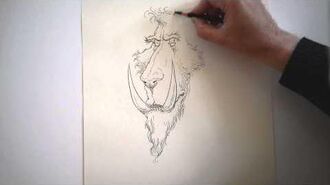 Ad blocker interference detected!
Wikia is a free-to-use site that makes money from advertising. We have a modified experience for viewers using ad blockers

Wikia is not accessible if you've made further modifications. Remove the custom ad blocker rule(s) and the page will load as expected.