Goblins represented a large category of species in the Edge.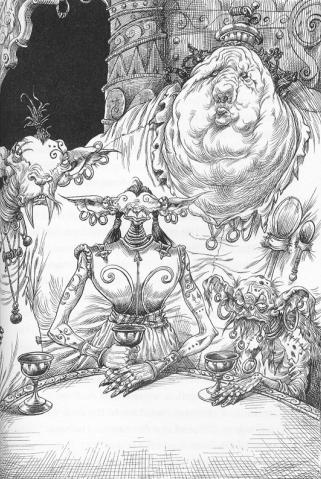 The goblins set up a number of permanent habitats, and these included the Goblin Nations, the Hive Towers in Undertown, various areas in the Free Glades, and Hive. Within these settlements, different species of goblin tended to live apart, as each had their own habitational preferences. The variety of goblins was incredible; for instance, hammerheads and flat-heads were bred for war, whilst low-bellied and web-footed goblins tended the land, both terrestrial and aquatic.
Pedigree Chart
Click a place on the map to be taken to its Edge Chronicles Wiki page.
Click here for information about ImageMaps and how to create them. This ImageMap is not complete. See the list below for all goblin varieties.
Goblin Races
There were many varieties of goblins:
B
C
D
F
G
H
J
L
M
P
R
S
T
U
W