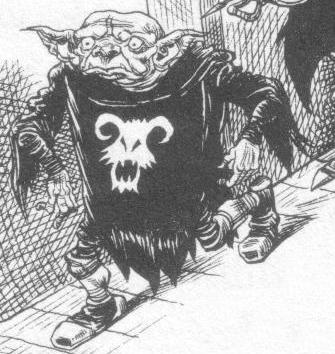 "You're one of them librarian knights, ain't you? Oh, please have mercy, sir. I've never hurt no-one, honest I haven't."
-Gobrat
Gobrat was a poor Flat-Head Goblin who grew up in the Undertown slums near the Edgewater River. The Guardians of Night took him in when he had no one else to turn to, and he became a guard at the Tower of Night. He proved to be quite unreliable, often getting drunk on woodgrog, passing out, and missing his shift. During the raid on the Tower of Night, Rook encountered him and forced him to lead him to where Cowlquape Pentephraxis was being kept prisoner. After the battle his fate is unknown but it is assumed that he survived.
Ad blocker interference detected!
Wikia is a free-to-use site that makes money from advertising. We have a modified experience for viewers using ad blockers

Wikia is not accessible if you've made further modifications. Remove the custom ad blocker rule(s) and the page will load as expected.