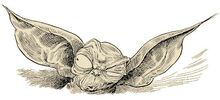 "Better dead than deaf."
—Nightwaif proverb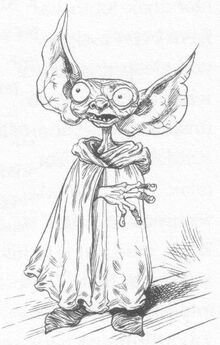 Nightwaifs were the most common varietiy of waif found in the Nightwoods. Like all waifs, they possessed the ability to communicate silently via telepathy, although their hearing was even more acute than other species. They had charcoal-black skin and, unlike some species of waif, had no barbels hanging from their mouths. They tended to be smaller, and more fragile than most other waifs.
Notable Nightwaifs
Naming Convention
Nightwaifs usually had names with the suffix "-cule" or "-ule", such as Fevercule of Partifule. An exception to this is Menisculis, whose name ends in an "-is", after a "-cule".