Settlement Info

Name

Screetown

Location

South of Old Undertown

Population

Time Period

Appearances

Vox

Governing Body

None

Currency

None

Establishment

The ruins were formed when southeast Undertown was destroyed by falling chunks of the diseased New Sanctaphrax rock in the year

42 EY

Disestablishment

None
Screetown was the ruins of the section of Undertown near New Sanctaphrax. It was created when diseased chunks of the New Sanctaphrax rock fell and crushed that portion of Undertown, which included the Boom-Docks and the Western Quays. Screetown was infested with Rubble Ghouls and was greatly feared by most inhabitants of the Edge. The only civilized inhabitants of the ruins were the Ghosts of Screetown.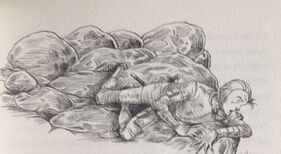 Ad blocker interference detected!
Wikia is a free-to-use site that makes money from advertising. We have a modified experience for viewers using ad blockers

Wikia is not accessible if you've made further modifications. Remove the custom ad blocker rule(s) and the page will load as expected.