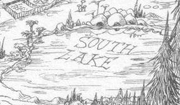 South Lake was one of the three lakes of the Free Glades. The Slaughterers' Camp was built near South Lake. Keris seeded South Lake with clamdust during the events of The Slaughterer's Quest, and, over the course of many years, new clams grew in the lake. Webfoot Goblins made encampments on the lake's shore.
Ad blocker interference detected!
Wikia is a free-to-use site that makes money from advertising. We have a modified experience for viewers using ad blockers

Wikia is not accessible if you've made further modifications. Remove the custom ad blocker rule(s) and the page will load as expected.